TRANSFORM YOUR LIFE
through
END OF STORIES:
WAKING UP TO SELF-LOVE
© Copyright – Janine Com & Len Blank
End of Stories: Waking Up to Self-Love can be a life-transforming experience. This book is an incredibly honest account of how two people were moved to begin an amazing journey home to their authentic selves. When Janine met Len, she had a knowing that this was not just any meeting.  A rarely seen commitment to the path of self-love was emerging as the focus became intensified on doing whatever it took to release attachments to the world they'd perceived as real.
168 pages of stories to end all stories, ancient and current gems of powerful wisdom, music and poetry to inspire, deep vulnerabilities and rarely seen truth-telling shared by both authors – all in the light of freeing oneself to be One Self.
READ OTHERS EXPERIENCES OF
'END OF STORIES: WAKING UP TO SELF-LOVE'
AUDIO BOOK
© Copyright – Janine Com & Len Blank
This audio book is the complete package. All aspects are designed to support your waking up process while assisting you to strengthen the ability to live authentically. You'll be listening to the authors' voices taking you through the entire book. Inspirational, incredibly honest, entertaining, transformational (if you're ready) and highly personal yet truly universal. Embark on a unique healing adventure to self-love.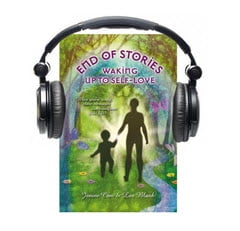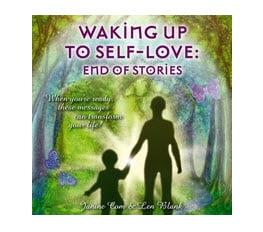 ALBUM
© Copyright – Janine Com & Len Blank
Through music/songs, narrative and timeless wisdom we welcome you on a journey that can transport you home to the authentic YOU. The entire 77 mins can be listened to as an empowering meditation/relaxation, or simply enjoyed at your leisure (i.e. while driving, exercising or as background entertainment). Either way, the frequency of the music and messages can be deeply transforming (if you're ready).
HYPNOSIS DOWNLOAD
© Copyright – Janine Com
Meditative, calming and soothing. Whether you're wanting to sleep better, meditate more deeply or simply a good dose of relaxation, this is a unique and powerful hypnosis download.
Be taken into another world thereby allowing deeper levels of connecting with yourself.